Midwest FC
Announcements
Upcoming Tryouts for Midwest FC
Register for Tryouts by clicking applicable links below:
All tryouts will take place at Ackerman Park, 800 St. Charles Rd, Glen Ellyn – Directions
Note: An additional tryout for High School Boys will be held in October, date and time has yet to be determined.
Midwest FC U19 Boys Elite Southern Indiana Showcase undefeated Champions!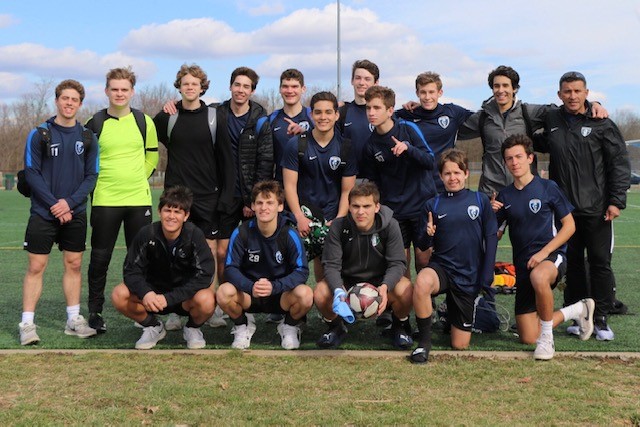 Midwest FC U19 Boys Elite Max McCook indoor league Champions 9-0-1!
Congratulations to all of the Midwest FC U15 Girls Elite players who were selected to play for their high school programs!
About
What is Midwest FC?
The Glen Ellyn and Wheaton Park Districts have cooperatively created the Midwest FC travel soccer program for boys ages U15 and older and girls ages U14 and older. The Midwest FC strives to provide a positive, competitive environment to produce soccer players who have the desire to compete at a high level. Teams will train locally (Glen Ellyn and Wheaton Park District fields and facilities), participate in showcase tournaments, and licensed strength and conditioning trainers will work with all teams to create well-rounded soccer players. Teams compete across the Chicagoland area and all teams are trained and coached by a member of Future Pros, our professional training staff.
The majority of players reside in either Glen Ellyn or Wheaton. Non-residents are welcome to participate as well. Teams will be selected based on the skills and abilities of the player who attend tryouts.
Location of practices and games will be dependent on where players on a team reside. If there is an even split of Glen Ellyn and Wheaton residents on a team, then half of the practices and games will be in Glen Ellyn and half will be in Wheaton. Parks and facilities will include but are not limited to: Ackerman Park (Glen Ellyn), Memorial Field (Glen Ellyn), Seven Gables (Wheaton), Graf Park (Wheaton), or the Central Athletic Complex (Wheaton).
For further information, please contact Toni Giovenco from the Wheaton Park District at tgiovenco@wheatonparks.org or Brad Thomas from the Glen Ellyn Park District at bthomas@gepark.org.
Frequently Asked Questions
Tryouts
Upcoming tryouts will be posted under Announcements.
All new and returning players must tryout each year. Tryouts are a 2-day process and all players must attend both days in order to be eligible for placement.
The Midwest FC trainer organization, Future Pros, conducts tryouts and establishes the final determination on team placement. Player selection and team placement will be based on the trainers evaluations for returning players and tryout evaluations for all players.
Future Pros trainers, in partnership with the Glen Ellyn and Wheaton Park District, will meet approximately 24 hours after the completion of the second day of tryouts to review and complete the team selections.
Our goal is to have Elite teams notified within 48 hours after the completion of the second day of tryouts and the remaining teams notified within an additional 48 hours. A holding pool of players not initially placed on a team will also be created at this time and notified.
Players offered a position on a team will have 24 hours to accept the invitation to play with Midwest FC. If a player should decline or does not respond to the initial invitation, the player will be placed at the bottom of the holding pool. The player might be invited to join another team, at that age group, if space later becomes available. If a player declines to join their assigned team, the next ranked player from a lower team or the holding pool will be moved up to that team and will then have 24 hours to accept or decline a position on that team.
Any player who is moved up from a lower team will have the option of declining acceptance on the higher team and still maintain a roster spot on the lower team.
The goal is to have all teams formed within the 72 hours after the initial posting of teams and the holding pool. All players still remaining in the holding pool after teams have been completely formed will be contacted by a member of the Tryout Committee.
The Midwest FC reserves the right to re-assign players during the season based on the trainers' direction.
Supplemental Tryouts
Supplemental tryouts may be requested at any time during the season. If your son or daughter is interested in a supplemental tryout, please contact Toni Giovenco at tgiovenco@wheatonparks.org. A supplemental tryout will only be granted if a Midwest FC team has an available roster position at the age group of the requesting player.  If a position is available, we will set up a supplemental tryout with a trainer.
Player Selection
How are players selected for a Midwest FC team?
Through open Tryouts. Open tryouts are held in May for boys and girls teams. The tryouts include drills designed to test soccer skills and a scrimmage with the other players. All players interested in playing with the Midwest FC are required to attend both days of tryouts. Elite teams are notified within 48 hours after the completion of the second day of tryouts and all remaining teams are notified within an additional 48 hours. Once they have been notified, they will have 24 hours to accept the position on the team by putting a nonrefundable deposit down. Trainers from Future Pros conduct the tryouts and choose the placement of players.
Player Commitment
What is the time commitment to play for Midwest FC?
The Midwest FC offers a full year program for U15 boys and U14 and U15 girls. The fall season begins in late August and ends in early November. The spring season begins in mid-April and ends in mid-June. Each season includes:
Preseason 5 day camp
Training 3 times per week in the fall and spring (90 minutes each) for Elite level teams and training 2 times per week in the fall and spring (90 minutes each) for Select level teams
Winter indoor turf training
3 tournaments during the season for Elite level teams and 2 tournament during the season for Select level teams
Strength and conditioning training from professionally licensed athletic trainers
The Midwest FC also offers a half year program for High School boys and girls. The girls fall season begins in late August and ends at the end of March. The boys season starts at the beginning of January and ends in mid-June. Each season includes:
Preseason 5 day camp (high school girls only)
Training 3 times per week in the fall for girls (90 minutes each) and training 3 times per week in the spring for boys (90 minutes each)
Winter indoor turf training
3 showcase tournaments during the season
Strength and conditioning training from professionally licensed athletic trainers